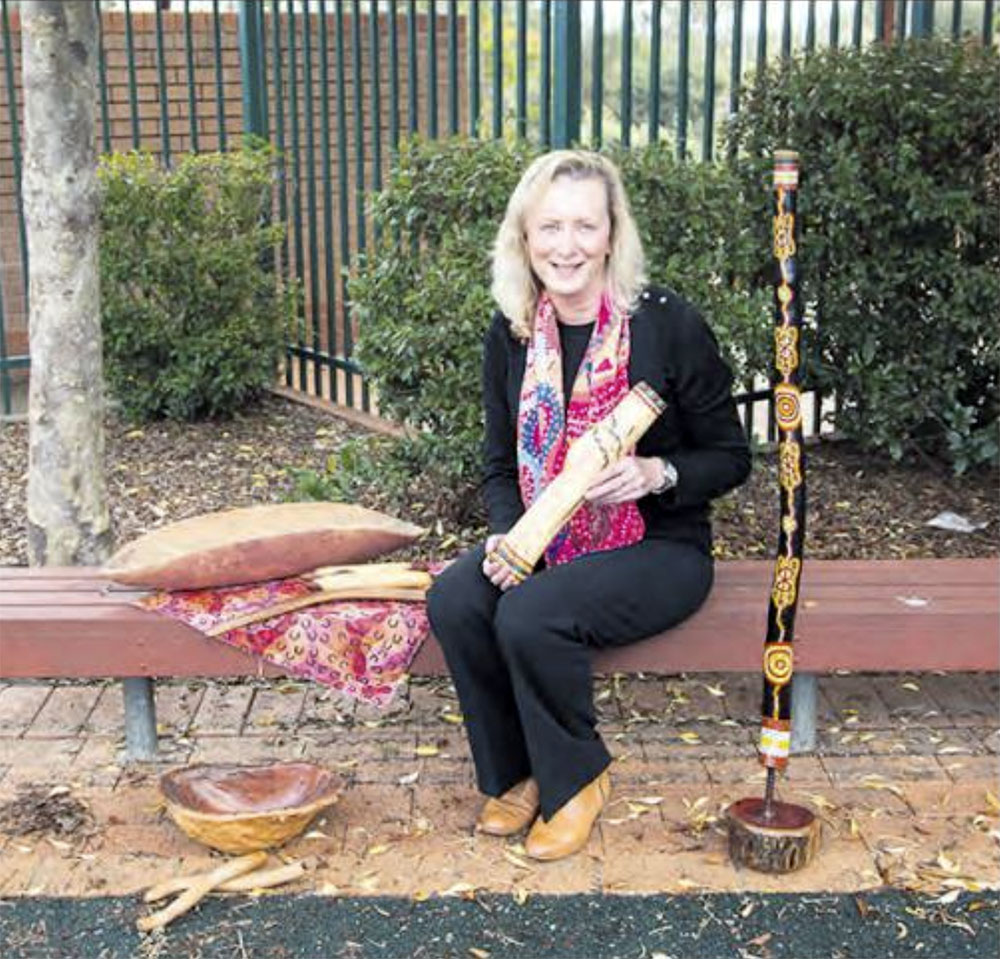 Teacher Yvonne Terweeme loves teaching Indigenous culture. Photo: Megan Dunn
Grant allows Bethany Primary Glenmore Park teacher to implement Indigenous culture into school curriculum.
Teacher Yvonne Terweeme is encouraging schools to apply for the 2020 round of the NGS Super Scholarship awards.
Winning the award last year, she has used the $5,000 grant to incorporate Indigenous culture into her curriculum at Bethany Catholic Primary School in Glenmore Park.
After spending a year teaching at St Therese's Community Parish School in Wilcannia, Ms Terweeme said she was inspired by the Paarkandji Indigenous community where the isolated school was located.
"In 2018, I left my family to live in a remote town and work at a little school which was very challenging but so rewarding with what we achieved, and I learnt so much about Indigenous culture," Ms Terweeme said.
"It is such a fascinating culture and we are always talking to students about sustainability and recycling which these people have been doing for generations and they have a real sense of community."
Returning home, Ms Terweeme said she applied for the scholarship which helped her in her teaching plans.
"I was planning on doing the Stronger Smarter Leadership Program, which gives you a framework to implement Aboriginal studies in your school, but it was quite expensive," she said.
"When I was lucky enough to receive the funding, I could do the course plus another one to help me and channel the rest of the money into resources for my students."
With her students responding well to her teaching, Ms Terweeme said she will continue to learn about Indigenous culture so she can educate them on the important topic.
"My kids do a varning circle every morning and an acknowledgement of country which they love because I think it is important we learn about our history. We teach about other cultures and religions so why not our First Nations people?" she said.
"I really enjoy teaching about Indigenous culture but I want to be respectful and learn from the Dharug people, so I invite the Elders to help educate me if they are interested so I can be better for the kids."
If you are an NGS Super member, you can apply at https://www.ngssuper.com.au/about-us/ngs-scholarship-awards/entry-form.
Entries for this year's grants close on Monday, August 31st.
---
Learn more about learning at Bethany Catholic Primary School in Glenmore Park
Discover more about Indigenous Education in our Catholic schools